'It Takes A Village': In Conversation with High Heal Doula on Motherhood, Care and Community
This photo essay shines a light on the experiences of Black doulas in New Orleans who are mothers and practicing doulas, showcasing the interconnection of community healing and birth.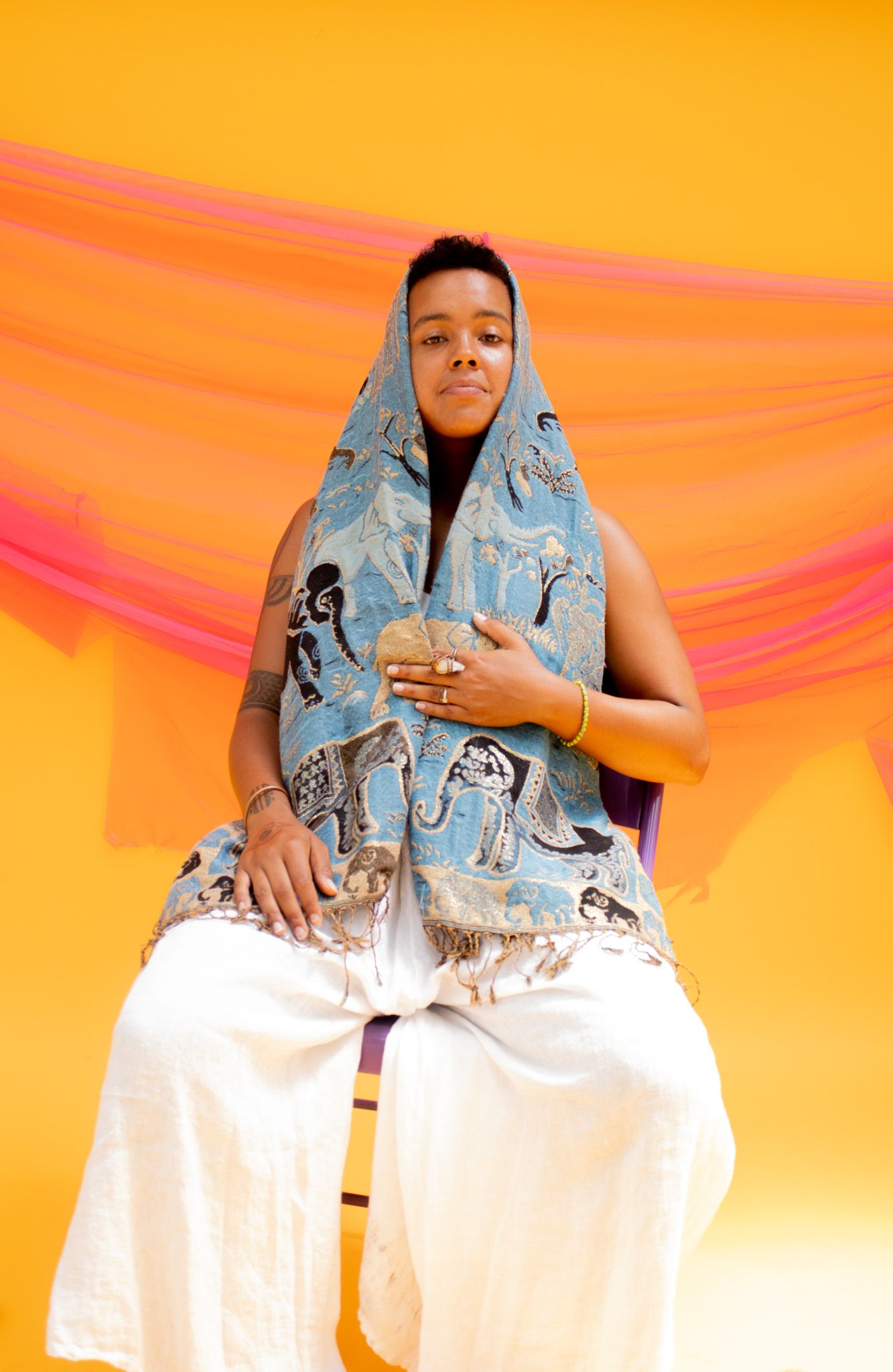 This article is part of a Lede New Orleans reporting project exploring stories, information and resources around Black motherhood and maternal health in New Orleans. The series is being produced by the Spring 2023 Lede New Orleans Community Reporting Fellows. Have a tip for them? Email ledeneworleans@gmail.com with the subject line "Black Maternal Health."
By Sofia Luciano Santiago
Delise Hampton, known as High Heal Doula, is a mother first and foremost, a doula, a healer, a musician, an Emcee, and a chef. Raised in New Orleans, she is the mother of 5-year-old Sekou-Ade and has assisted many mothers and parents to bring their babies into the world.
Her passion is shared through education; she shares tools regarding the importance of caring for mothers before, during, and after birth. All while creating a grid of care with a deep respect for the mother's experience and how parents can show up for their child.
Delise started her doula work in 2017, learning with Sista Midwife Productions, one of the pillars of Black maternal health in the South. After she completed the course, Delise welcomed her son in January 2018. These moments were divinely aligned, as Delise describes it, becoming a doula and a mother; and gaining an intimate wisdom to guiding the experience of having a baby.
How did having your child grow your perspective and education as a doula?
As far as pregnancy and childbirth in general, there is a lot of fear surrounding getting pregnant and having to sacrifice and compromise around all of these ideologies that we are taught as women about birthing. Once I got pregnant, it was one of the most joyful, joyous, experiences I have ever had. I birthed [my son] at home with a whole bunch of sisters and community around to see him come into the earth. I'm from New Orleans, I'm born and raised. I went to school in D.C. and then came back home to spread the information I had gathered. It's so interesting because even thinking about having this conversation about natural birth with my mom, she was so scared. My whole pregnancy, she was scared, even though I went to the hospital and I was getting parallel care. It's so interesting to think about how, my mom had five children, and there's such a gap between her knowing what happened to her body. That was the main push for me to doing this work and doing this work fully and intentionally. I don't market this [as a business], because it's not for me. It's a calling.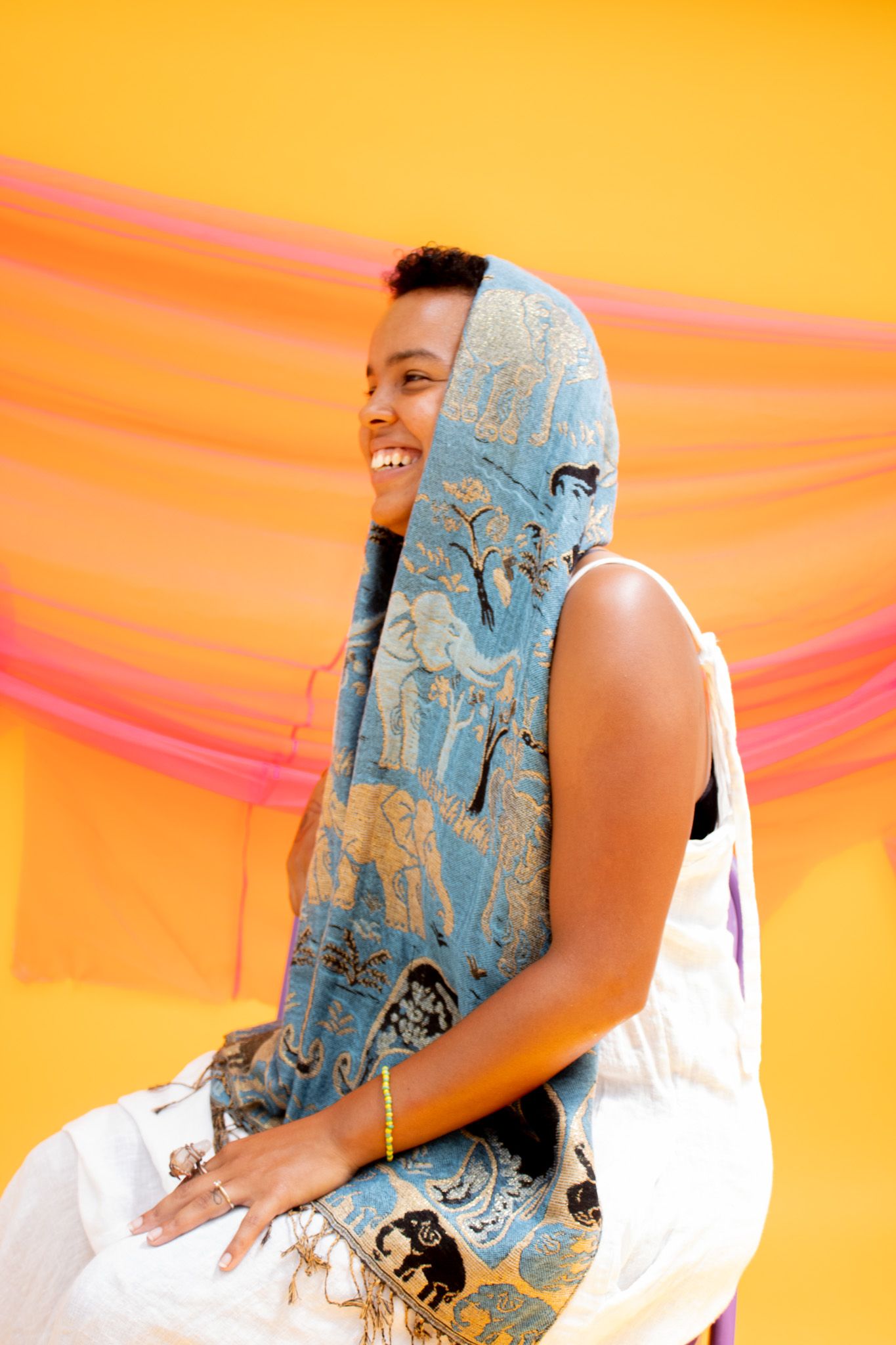 As a doula in New Orleans, what is it like to connect with mothers and families who have not had access to doula care?
I think the biggest thing for me is the educational piece. A lot of people want to have home births without any professional or medical personnel. So just giving them the tools to know what to do, giving them the tools to know how to care for your body, you and your partner, you and your sister, you and your mom, whoever is there to support you.
That has been my biggest thing: making sure people are prepared. It's eating correctly. It's talking to your baby, so your baby knows that they are safe. It's a holistic approach to having a baby, because a lot of times when mothers go to the hospital, it's, unfortunately, very monolithic. When, in actuality, pregnancy and birth are not formulaic at all. Every pregnancy is different, every child is different, every mother is different. So it's important that we reshape the education around what our bodies can do.
Unfortunately, the medical care system does not fund doulas, and we are very important to healing and birthing — and healing birth. One of the things that Mama Nicole Deggins from Sista Midwives says is "Birth is the Revolution,'' and I truly believe that. If we are conscious and aware of how we are bringing our children into the world, it completely shapes and shifts how we are forming these human beings.
What does the educational process of becoming a doula look like?
At the forefront of the training is knowing the history. It's knowing intuitively: we are all doulas. This certification really means nothing but because we need it in order to walk into these hospital spaces in order to function. There is a lot of validation around "I'm certified as a doula", and because we are in a system that requires that, it's also important for us to be creating community around doulas. To be creating communities around birthing generally, motherhood, and how we are shifting the paradigm so that mothers don't feel alone. So that doulas don't feel alone. So that midwives don't feel alone because there are millions of babies, thousands of babies that are born in a day.
And to think about it, if everyone had a doula, if everyone had someone who was caring for their mental, emotional, and psychological care of the mother, how that truly shifts the entire paradigm with how we view each other and how that child views themselves. It's an important shift, and it's all about care. It's all about [how] mothers need care.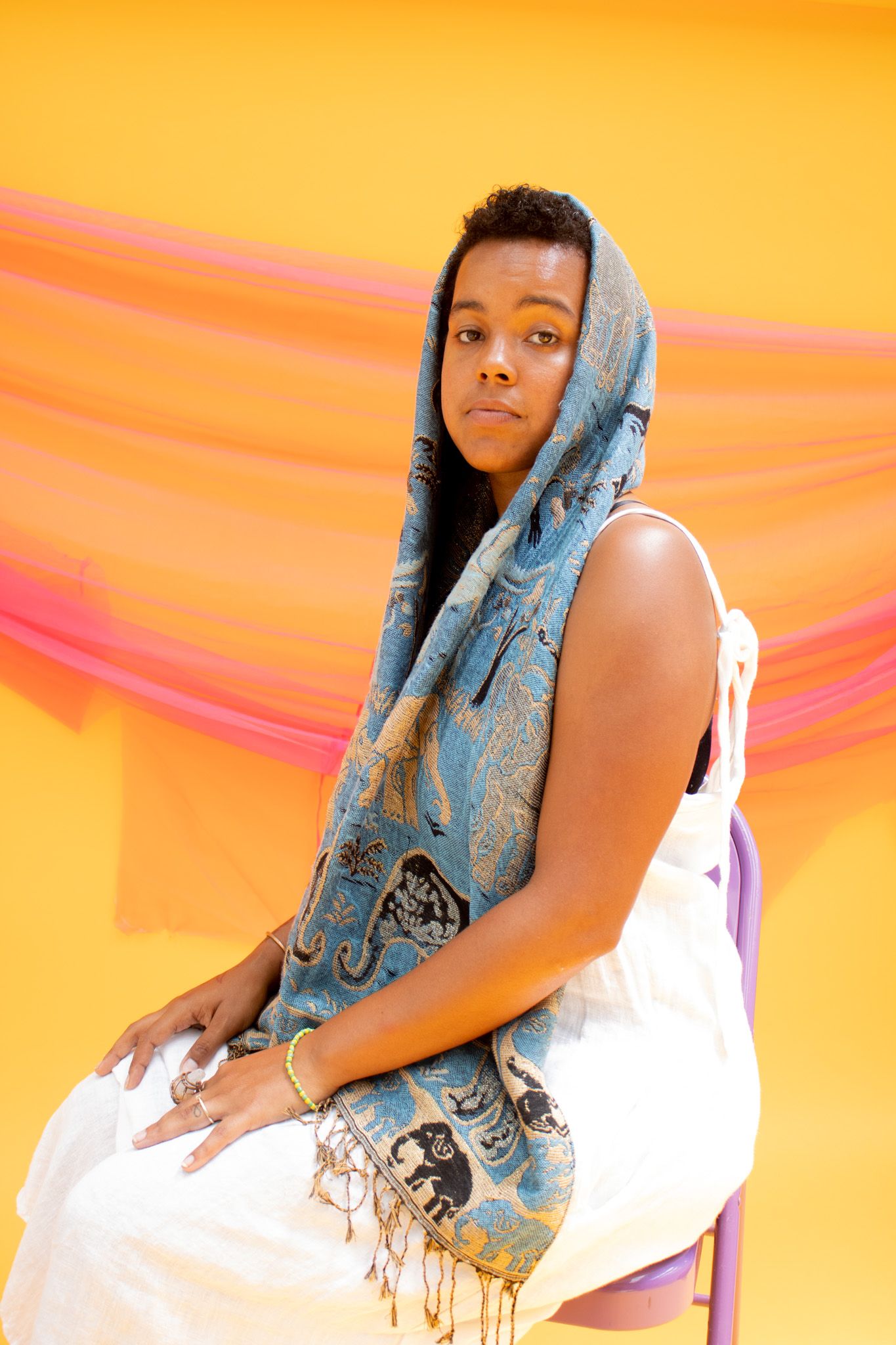 I know you are a mother yourself, If you feel comfortable and called to, would you share your own experience?
I have a son and a daughter. With my son, it was beautiful. I was in labor for 25 hours, he was like: "Not yet!" It was at home, no medication, such a beautiful experience. I feel like with his birth, the defining moment, I had chosen a song for when he was crowning,"Here Comes the Sun" by Nina Simone, and I told my doula to play that song. Having your first child can be scary. It was releasing all of that. And then my daughter.
My daughter came very swiftly. She taught me so much while she was here. In February of 2020, she transitioned. To go from birth to death, and to experience that, that was the transformation. When I found out I was pregnant, the place where I was in my life, it was different from when I had my son. I was doing it by myself, moving through the single mother trope. For her to transition, it helped me to really heal and to build.
I feel like every child that is born, their call to their parents is to heal them. To show [their parents] parts of them that they are maybe neglecting. But there is a divine order of all things, and to experience motherhood in both aspects, to experience a living child and experience a child that has transitioned, the totality of my defining moment.
Interconnecting your experience as a mother and a practicing doula, how are these mirrored in your life and practice?
As a mother and a doula, presence and intentionality are two of my most important principles. Being present as a doula and being present as a mama and being intentional about every interaction; every time I meet a client and every time I'm with my son. As to how that applies in my daily life, I'm a musician. As a musician I am very intentional about the music that I make, the music that I want my son to hear, the people that I collaborate with, the music that I collaborate with. Just as intentional as I am as a doula, I am just as intentional as an artist. Through the music, through collaboration, through gigs, everything is about being present for whatever I'm called to bring to the space that I am performing in or I am working in. This capitalistic structure has really turned us away from being intentional. So far away from being purposeful, and I just wanna reclaim all that power back.
How does community play a role in the work that you do?
I would say community plays the biggest role in all that I do, because we don't operate as single cells. In order for the whole organism to work, all of us have to be doing our due diligence towards the end goal; and the end goal is to have healthy, whole, happy families. It may not look like: mother, father, child. It may not look like the common patriarchal ideas of family. But my goal is for the people that I assist, the people that I help in their journey to having a new child, that they are informed, healthy, and bold towards their parenting. Sometimes, it's not easy. But never choosing a side, and always being righteous in how can both parties show up fully for the child. Because all of us are reprogramming and relearning how to parent ourselves first and foremost, and then how to parent our children in a holistic manner so that they are ready to be whole and not compartmentalize themselves.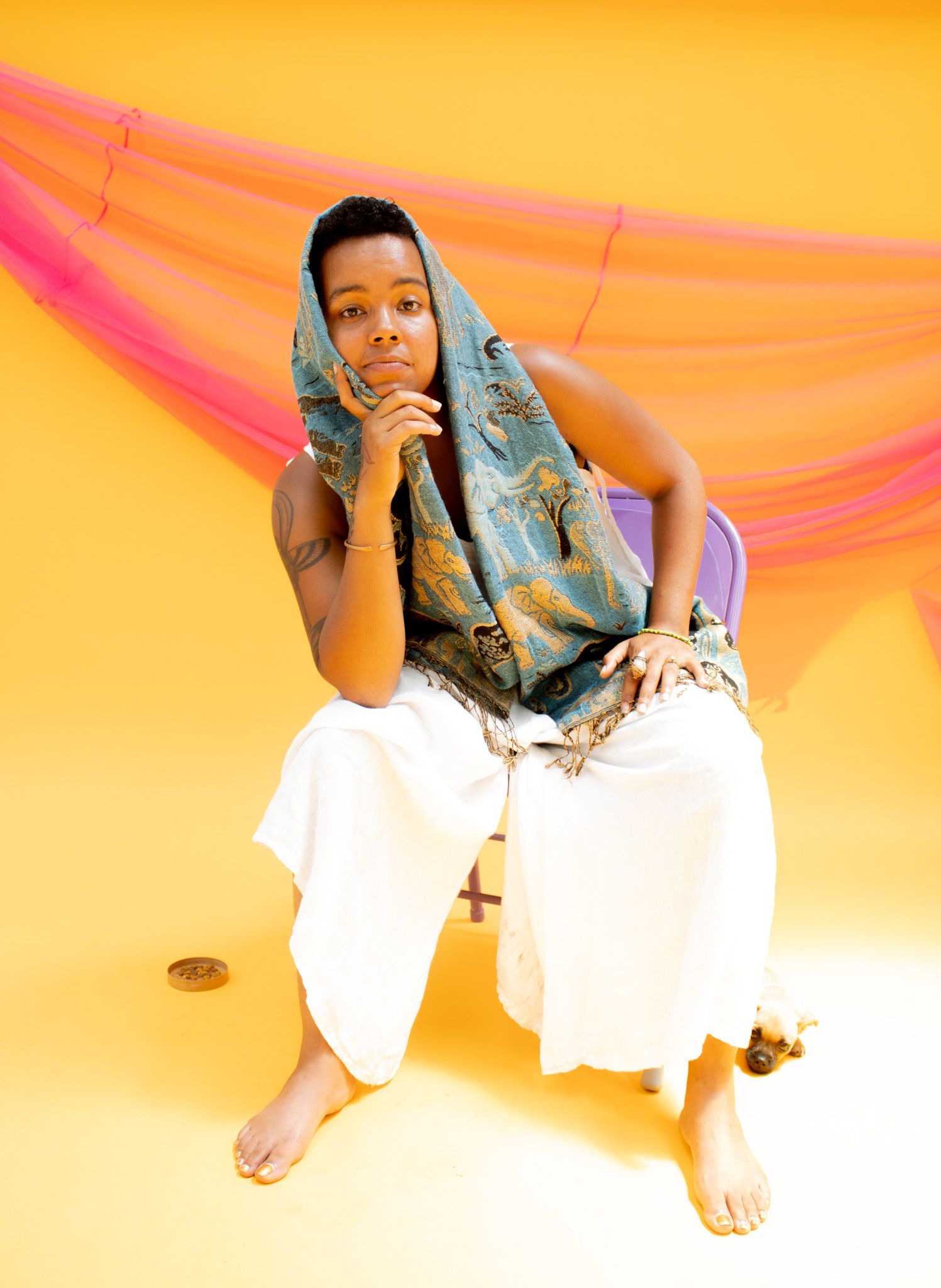 How has community played a role in your own family? If you feel comfortable to share your experiences, how has the community showed up for you and what have you learned from it?
With my son, after I had him, he was at all my shows, strapped up on me. Community knows him from being a baby strapped up on his mama everywhere. I didn't have the capacity to ask for help. I could just bring him with me, so that was him. So he was very community-oriented, and he still is. As far as my daughter, community showed up before I had her and then after I had her, and after she transitioned. In a major way. I really don't think I would be okay right now, if community did not show up.
Before I had her, we had a birthday party, and we ate, and we communed as sisters. We had another person in the group that was pregnant as well. We were building the sisterhood around our pregnancy and around our children. Once I had her, people just poured in resources: they brought food over, made sure that I was fed.
And then after she transitioned, it was the same support and same community pouring into me to make sure I was okay. Not just for me, but for my son. I'm not saying in this present moment, it doesn't still come, but now I have the resources and the tools. The cup to be able to pour back into myself more and more and more.
It's all about reciprocity, because that is how the world functions. We're not just one and one. We are all connected. Our roots are connected.
What do you think about the phrase: "It takes a village to raise a child", through your work and own experience, what does this phrase mean to you?
The concept of "It takes a village" is easy, but the application takes work. It takes every person to really be working on themselves for the whole. A lot of times, people work for themselves, which is rooted in capitalism. It is all of these class systems that we have been conditioned to understand, but how are we becoming better for the whole and not just for ourselves? As a mother, I become better everyday, and that's on my to do list.
But it takes a while to get to a space of trusting. All of these systems push us away from trusting each other and being fully engaged in conflict, because conflict is a natural human thing. It's not easy, but if I am doing the work then I have the capacity to help others do the work, and that is my calling. And as I do the work, I'm sharing the tools and resources I'm building to be able to be a whole human being; as a person, and then as a mother, and as a doula, a musician, and all the hats that I have.
✍🏻
Sofia Luciano Santiago is a photographer and published multimedia journalist from Carolina, Puerto Rico. Santiago, 22, recently graduated from Loyola University of New Orleans where they studied journalism.
---
This article is available to republish under a Creative Commons license. Read Lede New Orleans' publishing guidelines here.
Support Lede New Orleans and its community-centered reporting by becoming a supporting donor.